The blog posts from the beginning to present day are listed below in chronological order. I starting in Leicester, England, in August 2013 and anticipate returning sometime in 2019…..
Planning Before The Off (June 2013)
About – About me and the journey
Why? – Why cycle around the world and what does Cyclehacker mean?
Route – The planned route, circa 40,000 miles
Kit – Everything I have brought along
Bike – Choosing a touring bike to cycle aound the world; full spec, costs and considerations
Room to Read – I hope to build a new school, spread the gift of literacy and hack the cycle of poverty. You can join me.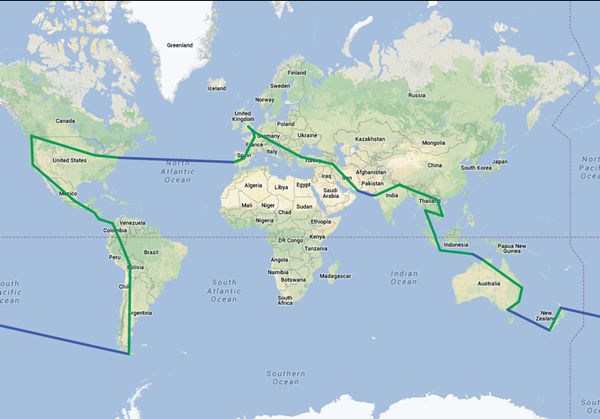 The Last Month Before Leaving
Welcome post – I nearly didn't make it thank goodness I saw the light!
How to finance a world bicycle tour and living like a stoic
Training – How to prepare your body for a world bicycle tour
Preparing to leave everything behind and going crazy
The state of 'holding on' – symptoms and treatment
Waiting at the station – the day before leaving
On The Road At Last (August 2013) – Europe
I aim to blog once a week, the highlighted text is the blog titles and I have added the countries that I was travelling through at the time of writing.
What was I thinking? – England, France and Belgium
Can one solution solve all problems? – Belgium, France and Luxembourg
Searching for fallen apples – France
Sunflowers to lake Laussane and a wonderful act of kindness in between – France and Switzerland (it was actually lake Leman)
One day in the alps: highest of highs to the lowest of lows – Switzerland, France and Italy
Racing the rain, riding the river Po and partying Moldavian stylie – Italy
Slovenia – beauty and the beast – Solvenia
The journey so far, a week in Zagreb and and incredible meeting of chance? – Croatia
Overcoming overwhelm by cycling along in Croatia, Bosnia and Serbia – Croatia, Bosnia and Serbia
The power of focus – Serbia and Romania
Managing expectations from Bucharest to Istanbul – Romania, Bulgaria and Turkey
Slowing down to smell the roses – Turkey
Stranded, lost and found – Turkey
The present should be better than the past – Turkey
Working On A Turkish Farm
When I originally stopped in Turkey I planned to spend the time working on a farm while writing a book. There weren't enough enough hours in the day to do both and I decided to move on and concentrate on writing the book:
Pastoral Vadi – learning to live more fully – Turkey
The journey so far (part 2) and a route through the Middle East – Turkey
Doing what you love to say 'yes' – Turkey
Why do we procrastinate? – Turkey
Stopped To Write A Book
Going all in – Turkey
The Fallacy of comfort – Turkey
What are your daily rituals? – Turkey
2013 annual review – Turkey
Life (or lack of) in Kargicak – Turkey
2014 – Turkey, Iran, India And South East Asia…
How to set goals (you will actually achieve) – Turkey
Turning goals into habits – Turkey
Join the 'Dough Disco' Guiness World Record team – Turkey
Book update self doubt sucks! – Turkey
What a week! the book is now available to download!! – Turkey
The Adventure Of Travelling Towards The Unknown – Turkey; Kargıcak to Osmanyie
Being Vulnerable, Having Faith And Making Friends – Osmaniye To Erzurum – Turkey
Knowing When To Stop, And When To Push On – Turkey; Erzurum to Van
Iran
Iran By Bicycle – Part 1 – Iran
Cycling Through Iran – Part 2 – Iran
Bicycle Touring In Iran – Part 3 – Iran
India
India: Trepidation, Fear, Excitement – India; Mumbai to Indore
Judgement, Non-judgement And A Dose Of The Runs – India; Indore to Palwal
At Last; Incredible India – India – Palwal to McLeod Ganj
Siddhi Yoga Teacher Training Review – India – McLeod Ganj
McLeod Ganj to Kathman-Ding-Dang-Du – India/ Nepal – McLeod Ganj to Kathmandu
Nepal
Vipassana Meditation Kathmandu – What's It All About? – Nepal – Kathmandu
One Year Down The Road – What Was I Thinking? Revisited – Nepal – Kathmandu
The Road Less Travelled And Room To Read Kathmandu – Inspired To Do Anything! – Nepal
India
When Is A Monsoon Not A Monsoon? – India
Extremists And Police Escorts – Just Another Day On The Road – India
Going Loco – India
Myanmar
Keep The Wheels Rolling – Mud, Sweat  And Despair – Myanmar
Cycling Cures Malaria – Myanmar
Thailand
Gun Fights, Drug Lords And A Thai Lady Covered In Talc! – Thailand
Laos
SABAIDEEEEEEEE!!!! – Laos
Cambodia
To Live Is To Struggle – What Are Your Struggling For? – Cambodia
Vietnam
Mastering The Inner Game – 2014 Annual Review – Vietnam
LIKE WHAT YOU SEE? GET UPDATES. IT'S
FREE
!